I'm still going along at a very decent pace 🙂 I actually read a LOT this month! There are some spoilers here I have to be honest with you, but I have tried to minimise it as much as possible.
15. Pushing the Limits – Katie McGarry
I really liked this book, it was a nice break from the crazy weirdness that I have been accidently subjecting myself to lately (see last months post for details). Granted there was some supposed crazy going on there and both main characters come from seriously damaged backgrounds, but I liked that their connection stemmed from a sense of feeling that they were kindred spirits and both felt a little battered and bruised and that none of the jock or pop princesses would or could understand why what they went through changed who they were. Slight spoilers: I think my favourite part about the book was that though both characters knew they did not fit in and were in some cases ostracised by their peers they ultimately decided not to try and change who they were to fit in to what other people (even her family) wanted them to be. In surrendering and choosing to feel the pain and working through that and being themselves and accepting that, they came a lot further mentally than they would have had they continued, "faking it".
A quote I loved from the book, "Luke used to give me butterflies. Noah spawned mutant pterodactyls."
16. Teardrop – Lauren Kate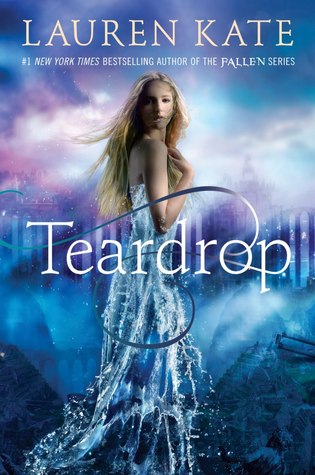 This was okay, honestly I LOVED the idea behind it. Not enough people write about Atlantis so that aspect of it was a refreshing change. The female protagonist was not bad, I had a hard time understanding her, whilst grief is a very powerful thing her reactions to some situations just didn't ring true to me. There is also a lot of negativity towards female characters in this book, Eureka's hate on Maya Cayce, a bunch of people's hate on Eureka (that name!), Eureka's hate on Rhoda – ladies, ladies… what is with all the hating? Then we turn around and almost all the guys in the book… all glowing reviews, even when she is angry with them, even when they are the enemy, sigh. The cover of this book is in a word… gorgeous! To be honest at first glance I figured I was dealing with water nymphs or mermaids or something. My secret fantasy about Atlantis has always been that the people survived by evolving into mermaids… is this just me? Does anyone else want to read a book like that? Also I am pretty sure that as a young girl if I was crying and someone smacked my face and told me to stop I would probably wail louder. My favourite character in this book was Brooks, I really liked his character, he had depth and seemed well thought out. Finding out his deal is likely the sole reason I will continue with this series.
17. Waterfall – Lauren Kate
HEAPS OF SPOILERS GUYS!!!
Wow, this lady knows how to have a GORGEOUS cover. Even her Fallen series covers I liked. Seriously nice job on the cover. I am really kind of confused post reading this book. Who died? Did they all die? What was that? Why were a whole bunch of people fighting in a brain at one time, it was supposed to be suspenseful I am sure, but I was actually laughing out loud at the absurdity of it all.
I'll say it… Eureka is a selfish kid. She truly is. She is told not to do certain things and it is explained to her what the risks are if she does do them… so the stupid tart does them anyway which pretty much indirectly leads to horrible things happening to her family and friends. Yet they keep treating her like she is precious and sensible, LOCK. HER. UP.
Then she is with Ander and she loves him so, so much you guys. Until there is another and then basically without even discussing it with him she basically abandons Ander even after promising she wouldn't and abandons the plan because the hot evil guy dressed in a Brooks suit asks her to get on a flying horse. My fave characters in this book were Cat who has great spunk and the twins. I have never been so disappointed in a sequel. It was total limbo basically the entire book, seriously, okay, have you seen the second last Harry Potter movie where they spend the majority of their time transporting around sitting in the tent listening to the radio? It was like that, but you read it!!!
18. Cinder – Marissa Meyer 
I kind of put this book off for some time. Then I caved as more and more people told me to give it a go citing that I would love its quirky take on an old tale and damn them if they weren't right. The basis of this story is based on Cinderella as you can probably guess from the uber hot pumps on the cover. I have one phrase for you to sum up the mad awesomeness of this book, 'Cyborg Cinderella in New Beijing, China', how cool is that? Yay for a fresh take on a classic. The bones are there, you know, nasty ass stepmom, one biyatch of a step sister (the other is a doll), huge hunk of a prince 🙂 But pretty much everything else is new, dealing with plague and antidotes and avoiding World War V are elements that appear in the tale. I have to say also that there were a couple of plot twists that I didn't see coming and damn if this author didn't George R. R. Martin us… no one is safe 🙂
This is a seriously inventive YA novel, colour me impressed 🙂
The book did leave you with a big reveal and a HUGE cliff hanger!!
19. Scarlet – Marissa Meyer 

Yup, I went back for seconds 🙂 And I was not disappointed.
This installment was based on Red Riding Hood. The thing I like about these books is that I want to say they are loosely based on the original fairytales because while the basis is in the original tale there are is so much more to the plot that I often did not even think about the fairytale as I was reading it. It was hard to put down, I was really interested to see how the stories of Scarlet and Cinder developed separately and to see how they were connected.
If the ages of the main characters was changed and therefore the language and reactions more mature this series could easily have been successful for an adult audience rather than a YA one. In fact I think it is successful for adults because technically I am one LOL. The important thing to remember reading this series is that they are teenagers, therefore they have hormones pumping all through them and their initial reactions are going to be emotionally based until they mature (hopefully really quickly). A couple of times I got a bit judgy with Cinder in both books with her mentioning all the time that she cannot cry, but then I realised that teenage girls are really emotional, they cry a lot, it is their way of releasing all those pent up emotions so once I thought about that it all made sense.
I liked the character of Wolf, he was intense and read as much older than he is supposed to be and I really loved the cocky Captain/Cadet Thorne – we needed some of that smart ass nature injected into the character mix.
20. Cress– Marissa Meyer 
Yup, I went back for thirds hahaha. In all seriousness you guys I read these books in 4 days. I was that into them!
Loosely based on Rapunzel this third instalment has so much happen in it, it is very fast paced and there are a lot of reveals. Many I had outright guessed or heavily suspected, but some were a surprise. In saying that there were parts where I felt we were waiting and in a bit of a stalemate, but there was reason behind it. I mean seriously Rome wasn't built in a day and it certainly wasn't built by a bunch of teenage misfits hahaha.
Cress as a character I enjoyed, this damsel had no time to be a princess and had a serious beating from the School of Hard Knocks, but she rose to the task each time. I am hoping she loses some of her meekness – lets be fair she is a very young girl who is brilliant, but I still want more out of her. In saying that she does become an integral part of the team and I LOVED the Rapunzel tie in, that was really well done. I was wondering how they were possibly going to do that and not have me groan.
I really want to get started on 'Winter' the next instalment which I assume is based on Snow White? In fact I messaged our YA Librarian on Goodreads and told her she needed to order it ASAP hahaha. Unfortunately it doesn't come out until November NOOOOO.
20. The Rosie Effect – Graeme Simsion
Yay, I got it! I got it! Seriously the first book needs to be made into a movie… I see Hugh Jackman in the main role… who would you cast?
I loved this book as much as the first one. There were some great new challenges in Don and Rosie's life. Again I truly admired the way Don's brain works, even if at times I was shaking my head hahaha. I do have to pick on something with this book that is Rosie, at times I truly didn't understand her behaviour towards Don, technically she did the wrong thing to begin with (a serious no, no for any girl to pull) so I wonder if her behaviour partly stems from guilt at times. I get that Don's "eccentricities" would be frustrating at times (and to be honest, sometimes his problem solving is hilarious, but leaves much to be desired hahaha), but she does not help matters at all. From what I remember she does not even really try to approach things in a manner that would be considerate to his personality and the way his brain works which causes him much stress.
Sorry, I shouldn't be writing so many negative things. Let me say again that I loved this second book. If I write too much about the second book you will end up with spoilers for both the first and second books and I know some of you were intending to read the first book so I don't want to ruin it for you 🙂 Suffice to say I absolutely recommend this book 🙂
I actually read more books than this, but was unable to get all the reviews done so I might have to do an April volume 2 in a few days 🙂